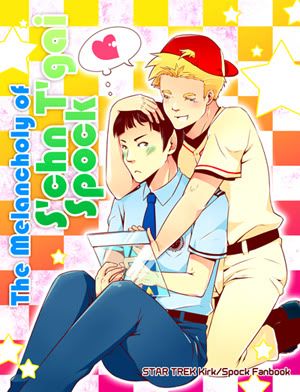 Title:
The Melancholy of S'chn T'gai Spock
Artist:

cannedebonbon
,

kamicom
,

carouselcycles
(inserts),

makowe_pola
(guest artist)
Author:
steamed-m
Pages:
46 (including 12 pages of fic)
Size:
8.5 x 11" (letter size)
Rating:
PG-13
Summary:
Jim and Spock are in Starfleet High. There are baseball players and cheerleaders and men wearing dresses. Yes, it's another one of those high school AUs.
Price:
$12 ($15 in a package with 4 postcard prints, 2 by

cannedebonbon
and 2 by

kamicom
-- more details in the actual sale post)
THIS IS
NOT
A SALE POST.
Because we are selling this at
Fan Expo
before making it available online, we are taking pre-orders for those of you who:
1) Can make it to Fan Expo but wants signatures/doodles on the inside (so we can do it before hand and not take up forever of your time)
2) CanNOT make it to Fan Expo but wants to reserve a copy in case it gets sold out (I HOPE SO, but I seriously doubt it)
Pre-order thread will be open until August 24th.
PRE-ORDER CLOSED.
Official sale post is
here
.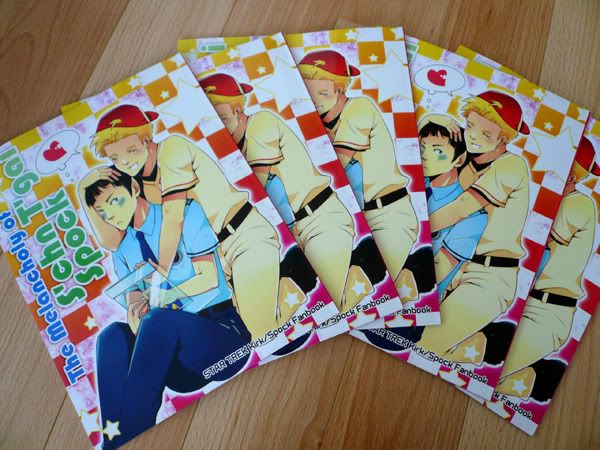 kamicom
's pages.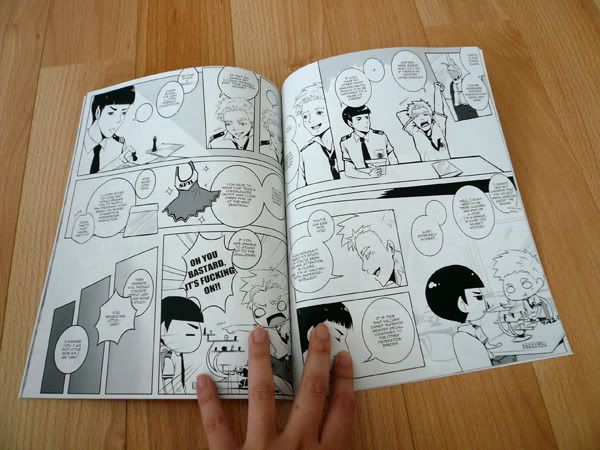 cannedebonbon
's pages
Please reply in the comments if you're pre-ordering. Tell us whether you'll be picking it up at Fax Expo or not and make doodle requests if interested (if you do, please note that you are obligated to buy the doujin. I mean, you're not and we can't force you, but we won't like you very much if you don't). Thank you very much! 8DDDD
EDIT: For those wondering, we'll be shipping internationally (as long as Canada post can get to you, we will ship it).