cannedebonbon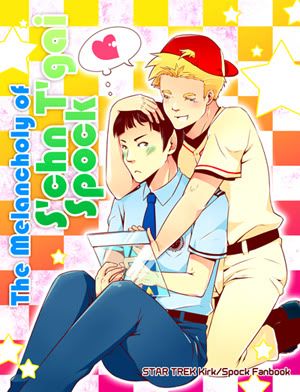 Title: The Melancholy of S'chn T'gai Spock
Artist:

cannedebonbon,

kamicom,

carouselcycles (inserts),

makowe_pola (guest artist)
Author: steamed-m
Pages: 46 (including 12 pages of fic)
Size: 8.5 x 11" (letter size)
Rating: PG-13
Summary: Jim and Spock are in Starfleet High. There are baseball players and cheerleaders and men wearing dresses. Yes, it's another one of those high school AUs.
Price: $12 ($15 in a package with 4 postcard prints: pick 2 from bundle A and 2 from bundle B)
(SOLD OUT)
Only pre-ordered copies are left. Sorry. :'D
Postcard Photo Prints
Size:
4" x6"
Price:
$1.50 each when buying separately form the doujin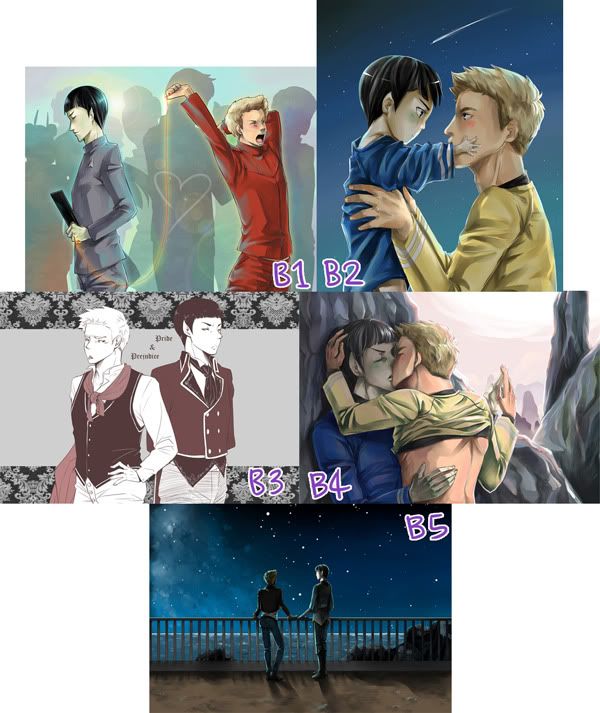 Keychains
Price:
$1.50 each

kamicom
is selling whatever's leftover from Fan Expo so there are only limited numbers left. First come first serve.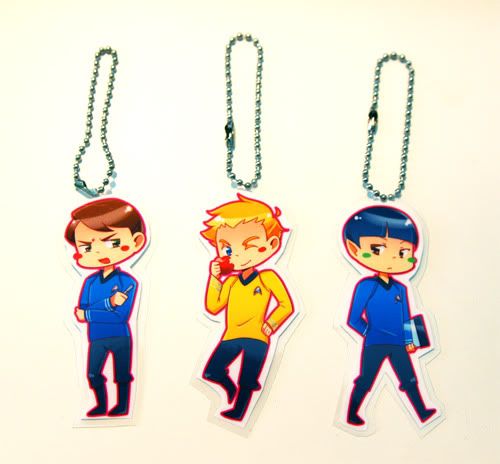 Star Trek:
Bones, Kirk, Spock
(SOLD OUT)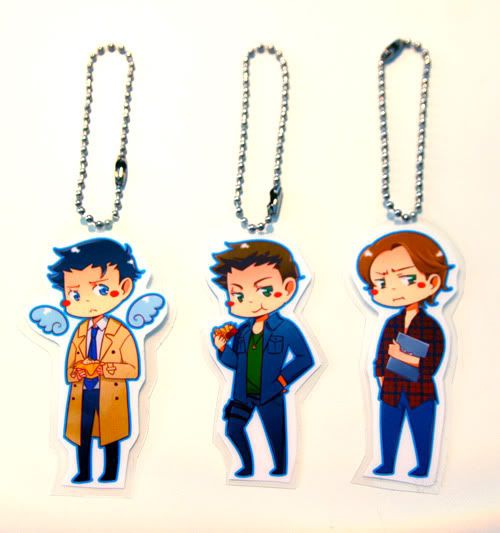 Supernatural: Castiel, Dean, Sam
Payment + Shipping
- All prices are listed as
Canadian Dollar (CAD)
- We will be accepting paypal, please send it to
cannedebonbon [at] gmail.com
as a
PERSONAL PAYMENT
, so we can avoid those pesky paypal fees. Thanks!
- When you send the payment,please include your
username and address
somewhere in the paypal message. It'd make my life a lot easier. XD
- Package will be sent through
Canadapost
as an oversized letter (~200g in weight)
Canada: $2.50
US: $4.20
International: $7.30
*above price is listed for 1 book. For orders with multiple books, I'll find out what the shipping is on a case-by-case basis. XD
Please comment below with your order. Those who pre-ordered in
this post
, please make sure you comment with the SAME USERNAME so I know you're the same person. Thank you! ^_^